Filter groups in Liquidware Labs Profile Unity are an extremely useful feature for limiting rules and settings for only a certain subset of users or computers. These enable you to target thinapp's, for instance, to AD groups or OU's or even specific users rather than to entire pools.  Or Add/Delete a registry key or value if a certain file or service exists.  There's many different options for filter groups, and i'll cover a few of them in this post.
When browsing to the filter tab page you'll see the screen below: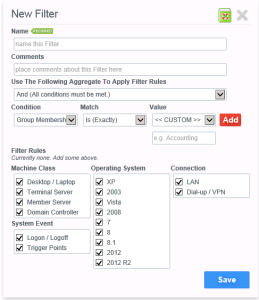 First thing to do is give your filter a name and add a comment indicating, for instance, what this filter is for and possibly other information such as the date it was created.
Next choose whether you want the conditions we'll define for this filter to all have to apply or if any one of them applies for this filter to be set to true.
The conditions section is where the flexibility of the filters come into play.  It defaults to group membership.  If you click the value drop down, you will see your active directory groups listed and you can choose to filter based upon one of these groups.  This is a nice way to create AD groups for applying thinapp packages, drive mappings, portability rules etc…
You can build filters based on whether or not services exist, registry keys exist or don't exist, View client type, AD OU, AD Site etc…  Here is a partial list of the available conditions

Once you've built you conditions, we move on to defining machine class, OS Type, Connection Type and System Event.  For System event the selection indicates whether this filter will be evaluated during logon/logoff or during defined trigger events.
One thing to keep in mind with the last set of checkboxes for filter rules.  If you leave all checked, it applies to anything matching your condition set in the filter.  If you filter based upon OS type, machine class etc… It adds extra processing onto the filter rules and adds to user login times.  Depending on the complexity of your filters, this additional time may or may not be noticed but every little bit adds up.
Thats it.  Click save and now your filter is ready to apply to the rules in your configuration.